Events at The Lazy Goat
PAELLA ON THE PATIO – FRIDAYS AT THE LAZY GOAT
Enjoy $12 Endless Paella on the Patio – Fridays during lunch at The Lazy Goat (noon – 2pm)
Looking for a great lunch on Fridays? We've got the place! The Lazy Goat is throwing a paella party on the patio (say that five times fast!) every Friday from noon to 2pm during lunch service. Come enjoy endless "Even Lazier Paella" (with chicken and chorizo) for just $12.
Chef Wilberto will be on the patio (weather permitting) with the giant paella pan and the freshest ingredients to add some Mediterranean spice to your Friday afternoon. We'll have a global cuisine feature on Fridays throughout Spring – starting with our paella feature for the next several weeks. We'd you to join us!
For reservations, please call 864.679.5299.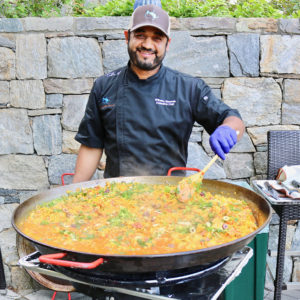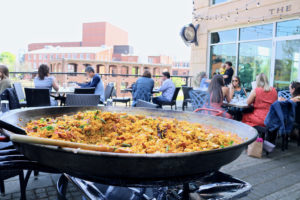 August Restaurant Week (August 9-19, 2018) – Make plans to eat out!
We're proud to be participating in South Carolina Restaurant Week 2018! This is a time when restaurants all across the state participate in this dining out event by offering specially priced prix fixe menus. Try a restaurant for the first time. Visit one you've not been to in awhile. No need to wait for a special occasion — this is the perfect time to eat out as many times as you'd like.
At The Lazy Goat, we're offering a special 3 course for $30 menu during dinner service. Make plans to join us and linger over some amazing dishes – we promise it will be time well wasted…
We're taking reservations now and spaces do fill. Call 864.679.5299 to make your reservations.
South Carolina Restaurant Week Menu:
3 for $30 (Click here to make reservations via Open Table)
Appetizers
(choose one)
Greek Salad
Romaine Hearts, Arcadian Mix, Feta, Olives, Banana Peppers, Carrots, Za'atar Vinaigrette, Greek Yogurt Emulsion
Crispy Brussels Sprouts
Jamon Serrano, Shaved Manchego, Sherry Glace
Chef's Daily Soup
Entrees
(choose one)
Loupe de Mer
Mediterranean Sea Bass, Quinoa Tabbouleh, Black Sofrito, Lemon Beurre Blanc, Garlic Chips
Pork Loin
Cauliflower Puree, Roasted Seasonal Vegetables, Mustard Au Jus
Bucatini
Pecorino Pepato, Arugula, Cherry Tomato, Turkish Eggplant Ragu
Wagyu Flank Steak
Lentil and Frisée Salad, Pepper Relish, Pickled Vegetables, Cardamom Vinaigrette
Desserts
(choose one)
Orange Blossom Pana Cotta
Honey Tuile, Blueberry Gel, Orange Supreme
Cheesecake
Passion Fruit Curd, Chocolate Sauce, Dentelle, Pistachios